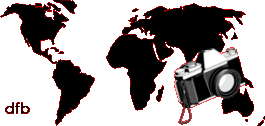 The virtue of the camera is not the power it has to transform the photographer into an artist, but the impulse it gives him to keep on looking. Brooks Atkinson (1894-1984)

The most gratifying moment of any journey is at the point you realize, you've unmistakably reached "there." Profound beauty is revealed. This collection of photography is a celebration of those moments. - daniel f. banales

One of the most beautiful waterfalls I've seen. We reached it by horseback. It is nestled up in the hills near the Arenal Volcano in Costa Rica, Central America.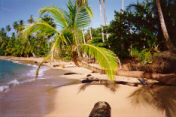 Paradise does exist--- but usually off the beaten trail. Manzanillo (south of Point Grape) on the Carribean coast of Costa Rica.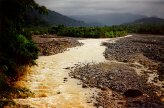 One of the many rivers pouring out of the lush rain forest in Central Costa Rica. This is much bigger than it appears.
A cool mist rolls down the terraced hillside.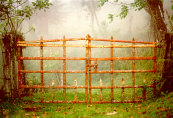 Beyond the gate seems to exist another world. -What was once rich coffee land is now grazing land surrounded by young pine forests.

On to the countries of your choice!!!
Simply select by clicking on the icons below:
come back soon!

Visit artists from around the world
back to:

e-me
This site was made early 1996. A real museum piece now. Offers a sample of late 20th century hobby web design.
I have some recent beautiful travel photos from Thailand here.
One of these days, I plan to create a new personal travel site with photos and stories from over 45 countries.
Until then, visit me at work here.